Hardscape Services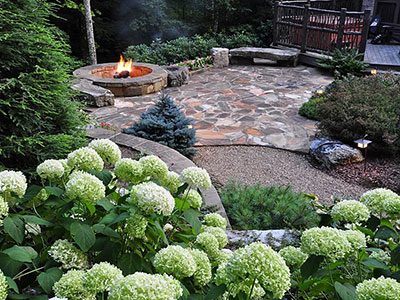 At Green Magic Landscaping LLC, we are committed to providing our clients with superior hardscaping solutions. Our creativity and expertise in this space are well known, and we cater to residential and commercial clients in and around Sedona. We focus on customization, ensuring that all the features and elements align with your aesthetic and functional requirements.
It means that your outdoor spaces will be a pleasure to see and use. Our team systematically creates the best layouts and plans, ensuring optimal use of the available space, giving you an excellent ROI while increasing your property value. The range of services we provide includes the following.
Rock Walls
There is something exquisite and organic about using natural rocks of different shapes, sizes, and types in landscape design. We provide the best rock wall design and installation services after surveying your property's outdoor areas. Our company plans these hardscaping features perfectly, so they lend a cohesive look to your landscape. We use the best materials and installation techniques, and you can be sure that your rock walls will last for years without much trouble. Sometimes, these rock walls become the backdrop of water features or fire features and uplift the appeal of these areas. We can also design and build rock walls to line flowerbeds, terraced landscapes, pathways, walkways, and driveways. We make sure that the styling of these rocks walls complements your property's architectural elements. Read More About Rock Walls >>
Artificial Rock
Using natural stones to create unique designs for your outdoor spaces is a brilliant idea because they look organic and last long. However, logistical issues such as the cost and weight of natural stones may become a deterrent for many property owners. In these situations, we recommend the use of artificial rock for landscapes. The manufacturing processes and materials used in these products have changed dramatically over the years. It means that what you get are fake rocks that look surprisingly real. There are many different artificial rocks to choose from, and we are here to guide your choices. Whether you want a rockery interspersed with plants or need a waterscape in your pool areas, we can install artificial rock features for you. Read More About Artificial Rock >>
Paver Driveways
Paver driveways are a standard feature on many residential and commercial properties. Many people are now moving away from asphalt, gravel, and even concrete driveways because pavers are far more beneficial in several ways. With regular maintenance, a paver driveway can last for four to five decades, providing you excellent value for money. The installation is easy, as is the care and these surfaces look stunning in any setting. You can choose from pavers made of concrete, natural stone, or brick, and we will provide the best designs and plans. We can also help replace your existing concrete driveway with a superior and stylish paver installation. We ensure that all the units are installed perfectly and that the feature is stable and resilient, which is crucial in enduring heavy foot and vehicular traffic. Read More About Paver Driveways >>
Paver Walkways
We can help uplift your landscape's appearance with stunning paver walkways that create a welcoming and unique look in your outdoor areas. Custom-designed walkways enhance your curb appeal contributing to the flow of your landscape. Whether you prefer elaborate or straightforward walkways, we will help create a feature that will be superb in form and appearance. There are several benefits to installing paver steps and walkways. We provide you with all the information you need about the different types of pavers available so you can choose something that works best for you. There are various styles, sizes, designs, colors, and shapes of pavers. Our team will work with you, and you can be sure that we will create a stunning walkway leading to your entrance. Read More About Paver Walkways >>
Paver Patios
If you want your patio to last for several years while being easy to maintain, you must select suitable materials for it and the other hardscaping features in your yard. Pavers are an ideal material choice for patios, and we recommend the best products to our clients. As a full-service hardscaping company, we offer top-quality paver patio design and installation services. Since there is an expansive range of paver products on the market, our skilled team will provide you with information regarding these. These details help you make a well-informed decision about the types of paving stones you want for your property. Read More About Paver Patios >>
Irrigation
When it comes to landscape plans, irrigation systems are a crucial component. However, our company has also tackled many irrigation system upgrades and improvements for commercial and residential clients throughout the region. In addition to helping with the best products and materials, we also systematically plan and install your irrigation system. The focus is always on ensuring your landscape gets the right amount of water at the correct times. It helps keep your plants, trees, and grass healthy and sustainable. We install automatic sprinkler systems, soaker hoses, and drip irrigation systems after conducting a detailed survey of the landscape or yard. We also offer irrigation system upgrades and extensions as needed, and our team handles the maintenance of these features. In short, you get all irrigation services under a single roof. Read More About Irrigation >>
Low Voltage Lighting
A landscape needs the proper levels of illumination to make these areas safe for use after dark. But that isn't all. We know that your property's curb appeal depends on how aesthetically appealing the lighting features are, and we plan these down to the last detail. Despite their lower voltage, LED lights aren't always the first choice for people looking for blinding floodlights because they emit a very mellow light. This fact makes them ideal for accentuating outdoor areas on residential and commercial properties. We plan the low-voltage lighting placement well and highlight the focal points in your landscape and pool areas. These lights are energy-efficient and cost-efficient, and they last long, helping you keep a handle on your landscape energy bills. Read More About Low Voltage Lighting >>
We are a renowned licensed and bonded landscaping contractor handling all types of residential and commercial projects. Our team manages every aspect of your project to industry standards, assuring quality, reliability, and excellent value for money. If you want to know more about our services or need a quote for water features, call Green Magic Landscaping LLC at this number 928-202-2036 and discuss your requirements without our team. You can also send us your queries via this online form, and one of our experts will call you soon to understand your project requirements.
We Provide Services to the Following Cities, Towns and Surrounding Regions of AZ: