What Clients are Saying: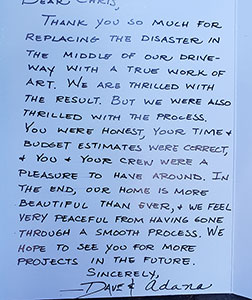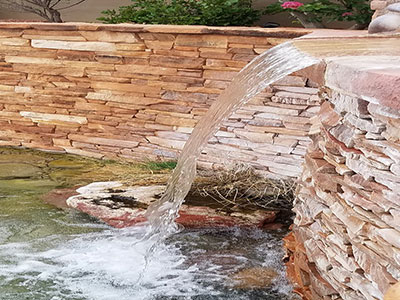 Dear Green Magic
Dear Chris Bosman,
It is my absolute pleasure to recommend your company Green Magic Landscaping. I thoroughly enjoyed my time watching you and your team transform my backyard into a practical and useful environment.
I asked for a 6 foot wide, smooth, paved path for our grandchild to bike and roller-skate on. Your expertise and knowledge of pavers provided us with the perfect color and texture for our needs. The detail and layout of the path are beautiful, and exceeded our expectations. Your crew provided a great work ethic in that they worked 6 days a week, and always arrived on time. You stayed on schedule and budget.
Without a doubt I confidently recommend Green Magic Landscaping to anyone seeking perfection and detail in their landscaping. Please feel free to give my phone number (650 452-8992) to anyone wanting more feedback on my experience with Green Magic Landscaping.
With much appreciation.
Sincerely, Chesley and Patricia Woo
Sedona, Arizona
January, 2019
In the fall of 2018, We had the pleasure of working with Chris Bosman and his crew as they completed our paver driveway and the landscaping for our new construction. Their work ethic, professionalism and attention to detail were stellar.
Everyone on the crew was a joy to work with and our new landscaping is amazing. We highly recommend Green Magic Landscaping.
Kay and Chuck Miller December 2018
My experience with GREEN MAGIC LANDSCAPING was awesome. From the day I met with Owner Chris Bosman at my house to go over ideas on the project to the day of completion everything went smoothly.
Chris, along with his professional crew were true craftsmen, taking the time to explain what they were doing along with adding special touches to the project that only added to the beauty of an already spectacular job well done.
I, as an established business owner serving the Verde Valley for 30 years knows how important it is to provide extraordinary value with regard to service & installation.
I can now say confidently without reservation that Chris and the crew exceeded my expectations and delivered a final product as promised.
I would highly recommend Chris and GREEN MAGIC to anyone looking for that special project that combines your vision and his many years of experience.
ADAM Goettl, Clarkdale, AZ November, 2017
I want to thank you for the magnificent job that you did!!
It was such a pleasure to work with you and your crew. You are very talented and have an eye for what works perfectly I also thank you for taking the time to explain why certain plants work and others don't. The landscape, lighting and pavers are a work of art. Thank you.
Janet Madori
(September, 2016)
Dear Green Magic
I am a client and have known Chris Bosman and his crew for over 10 years.They recently completed a beautiful fountain project at our Sedona home.
Right from the beginning the task was a collaboration. Chris allows your free spirit of creativity to take shape. Nothing is out of bounds. Chris was able to work with all aspects of our ideas and distill them into a clear, unique workable plan.
Grading, block concrete, stone work, plumbing, pumps, electrical timers, up lighting, custom iron backdrop and more were all called into play. They were all brought together in a coordinated symphony for our sight, sound and imagination. Never was there a hint of negativity on the project, only his soft voice of encouragement and resolve.
The bottom line is that the stuff he builds works…AND it works effort-free.
In the rare case of unforeseen damage, Chris responds timely and solves the problem. I am often out of town and have complete peace of mind knowing that Green Magic and Chris are available to me as a trusted resource. I will be a customer for life.
Sincerely, DR. MARK
Sedona, AZ September, 2016
Chris, Thank you!
We are so pleased with the work of Chris Bosman in designing and putting in the landscaping for our new home. He is not only extremely knowledgeable of the flora and fauna of the area, but he is well-versed in our community's regulations. His creation of accent features including waterfalls and a small pond complement the entry to our home as well as provide an inviting entertainment area on the back patio.
We could not have asked for more attentive or professional service. Chris listens and collaborates in order to ensure excellent customer service. Beyond this, he and his team are kind and considerate while paying attention to every detail. We can't say enough of how appreciative we are of his work and will not hesitate to return for any additional business in the future. We highly recommend him.
Here you go and if you want/need anything else, please do not hesitate to let Jack or I know. We're loving the two new cacti, by the way!
Respectfully, Connie Harris, Ed.D.
September, 2016
ATTENTION: Green Magic Landscaping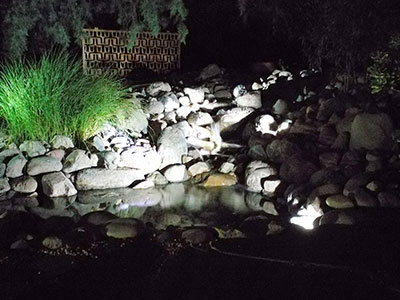 I hired Green Magic to do my combined driveway and walkway to the main entrance. Chris Bosman, the Owner, discussed the layout with me and gave me a very competitive quote. He and his crew showed up exactly as promised and, in spite of the June heat we had this year, they worked very hard to finish within the promised time frame. They were very efficient and left the site as tidy and clean as possible during the process and made sure that there was as little disruption for the neighbors as possible. The completed project is exactly as we discussed and I am very happy with the outcome.
Only a few weeks later I hired them again to give my pond a make-over. Again he was here promptly, helped and oversaw the job personally. As this was more of a creative project we discussed and worked together on the layout and whenever I made suggestions he was listening and accommodated my wishes. He was very easy and reliable to work with and I would recommend him for any landscaping project.
Judith Faram, Sedona (August, 2016)
Thank you Chris and Trevor!
What seemed like an impossible undertaking, turned out spectacular, because of Chris and Trevor. The attention to detail was superb! We started with nothing and finished with a beautiful courtyard of pavers, stone, large red rocks, rock pathways and borders, and lovely plants. They tied some of the existing hard scrape in with the design so that it seemed it was all installed at the same time. We asked for colorful plants and Chris designed the garden so something was blooming all year round. Then they moved on to our massive-sized Driveway using the same pavers and natural type landscaping. Their workers were friendly, respectful and always willing to go out of their way to make us happy. What a pleasant experience!
And they guarantee their work, so if plants die, they will replace it. We feel as though they are now our friends. We would highly recommend this company!
Patty and Robert Pond
August, 2016
I'd like to thank you for your business. I'd appreciate it if you'd take a few minutes to provide feedback on your experience with Green Magic Landscaping LLC. You don't have to be a current member on Angie's List to leave a review, and there is no cost for you. I look forward to working with you again in the future!
We Provide Services to the Following Cities, Towns and Surrounding Regions of AZ: